ÖLFLEX® CONNECT CHAIN
Whether you need custom cable assemblies, servo cable assemblies for motion application or a populated cable chain, we have one-stop solutions for all your cable systems requirements. Why LAPP? Watch the ÖLFLEX® CONNECT introduction video to find out more.
ÖLFLEX® CONNECT - Systems Solutions made by LAPP
LAPP Systems specializes in custom populated cable carriers and asse mblies for use in the automation control and drive industries. Find out more how ÖLFLEX® CONNECT CHAIN works.
If you need help for the assemblies, please use our Chain Configurator.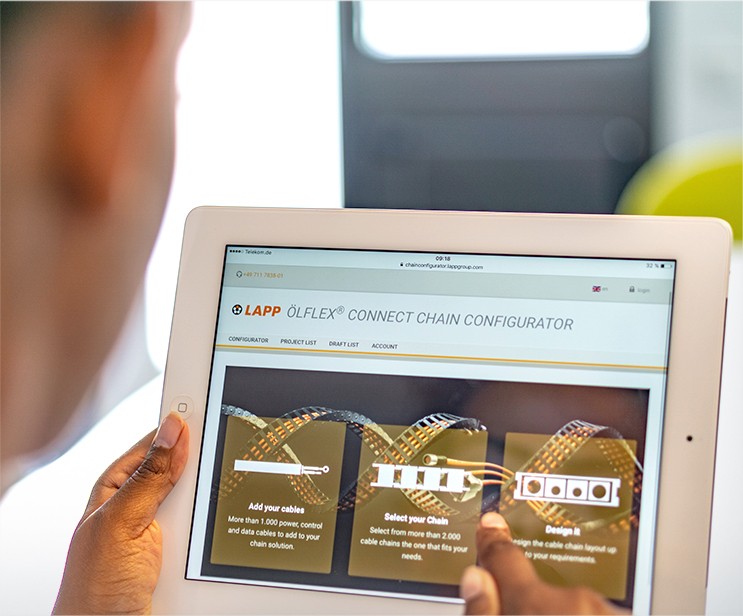 Configure It Right
When it comes to the engineering of your ideal cable chain, different configurations in system, sliding and housing can be explored to achieve the best functionality. These include anything from application environment to key technical and application parameters such as the cable diameter, travel length of chain movement, temperature properties and frequency of use.
Our online tool is a step-by-step guide to help you select compatible components with a personalised quotation for either individual components or a fully assembled chain, as you prefer. Furthermore, it eliminates chances of misconfiguration of the chain, prevent early malfunction of the cables within and thus maximize their intended life cycle. Enjoy on-site installation and access comprehensive test reports with individual product instructions upon request.
ACCESS CHAIN CONFIGURATOR
Please download our presentation materials for the webinar
---