THANK YOU FOR JOINING US!
Thanks to single-pair Ethernet, Ethernet-based communication is now possible via just a single pair of cores, with various advantages such as installation of connectors on site in industrial automation applications – with the added benefit of time and cost savings.
To strengthen the momentum of this upcoming industry breakthrough, standardisation for specific applications and installation guidelines are critical. Actively involved as part of the SPE Industrial Partner Network, LAPP's early lead in the innovation of single-pair Ethernet cable solutions puts its customers at the forefront of this exciting development.
ETHERLINE® T1 PRODUCT FAMILY
Availability for different IEEE standards, such as IEEE 802.3bw and IEEE 802.3bp
Standardization of technology in IP-based networks, from sensor to ERP, materializing a smart factory concept
Lightweight, space-saving and easy to install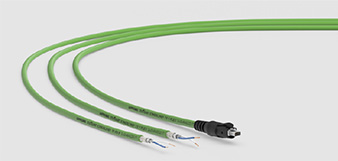 KNOWLEDGE IS POWER
Feel free to download our presentation materials from the webinar:
If you have further questions or would like to have a 1-to-1 technical consultation, please fill in your details below or contact us at:
Please note that fields marked with asterisk [*] are required information.