Social commitment is part of the LAPP – and therefore also the company – tradition. All around our business locations, we support a whole host of public and social initiatives and institutions.
Globalisation and community spirit go hand in hand at LAPP – since the very beginning, taking an active interest in social issues has formed part of the distinctive business culture of our family company.
Now, as ever, the LAPP company stands for reliable values and principles. Irrespective of market fluctuations, strategy changes and structural reorganisation, the LAPP company internal culture has anchored its dependable values for personnel and business partners alike firmly within its everyday business.
Here is an overview of LAPP India's Corporate Social Responsibility initiatives
Community Health Outreach Project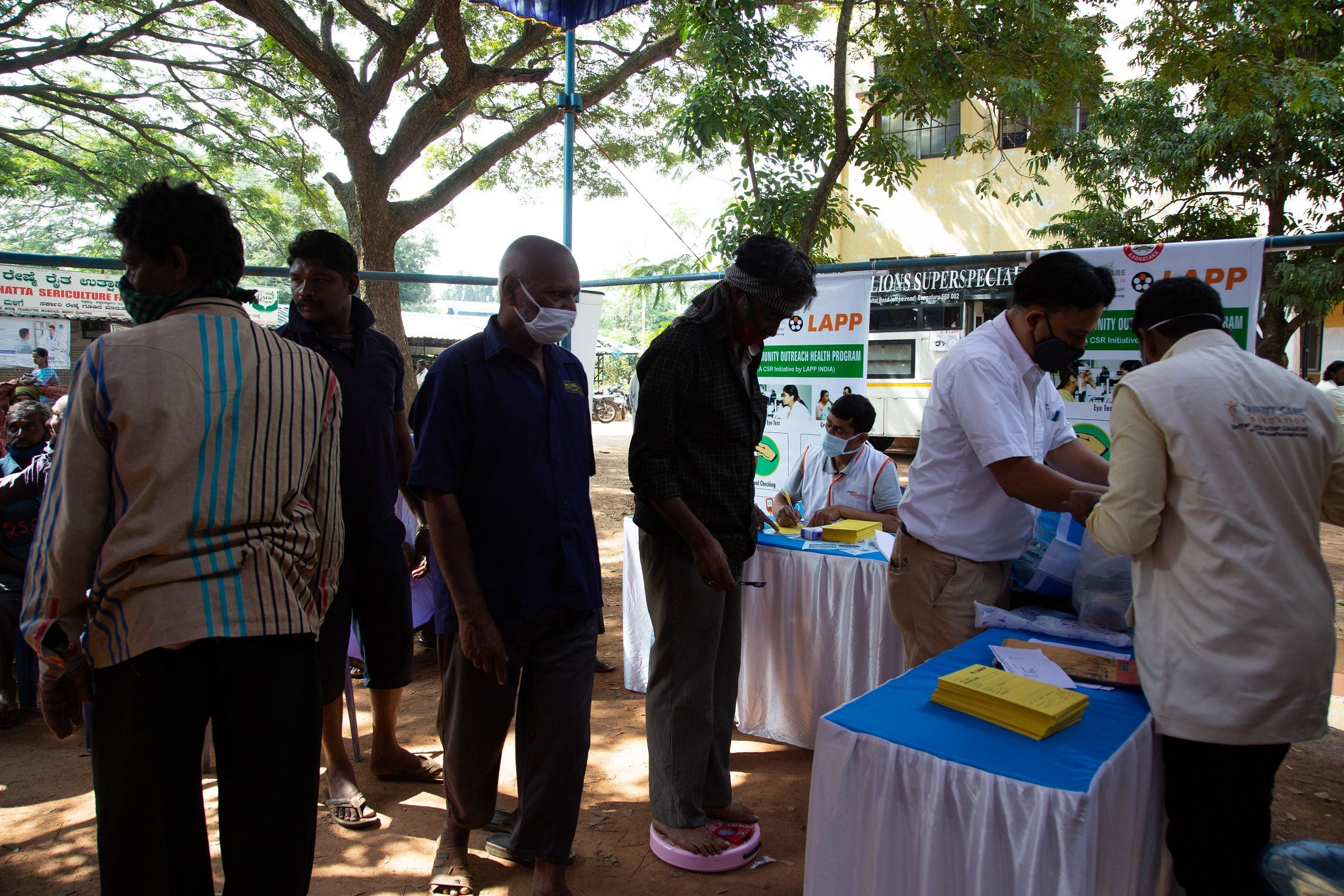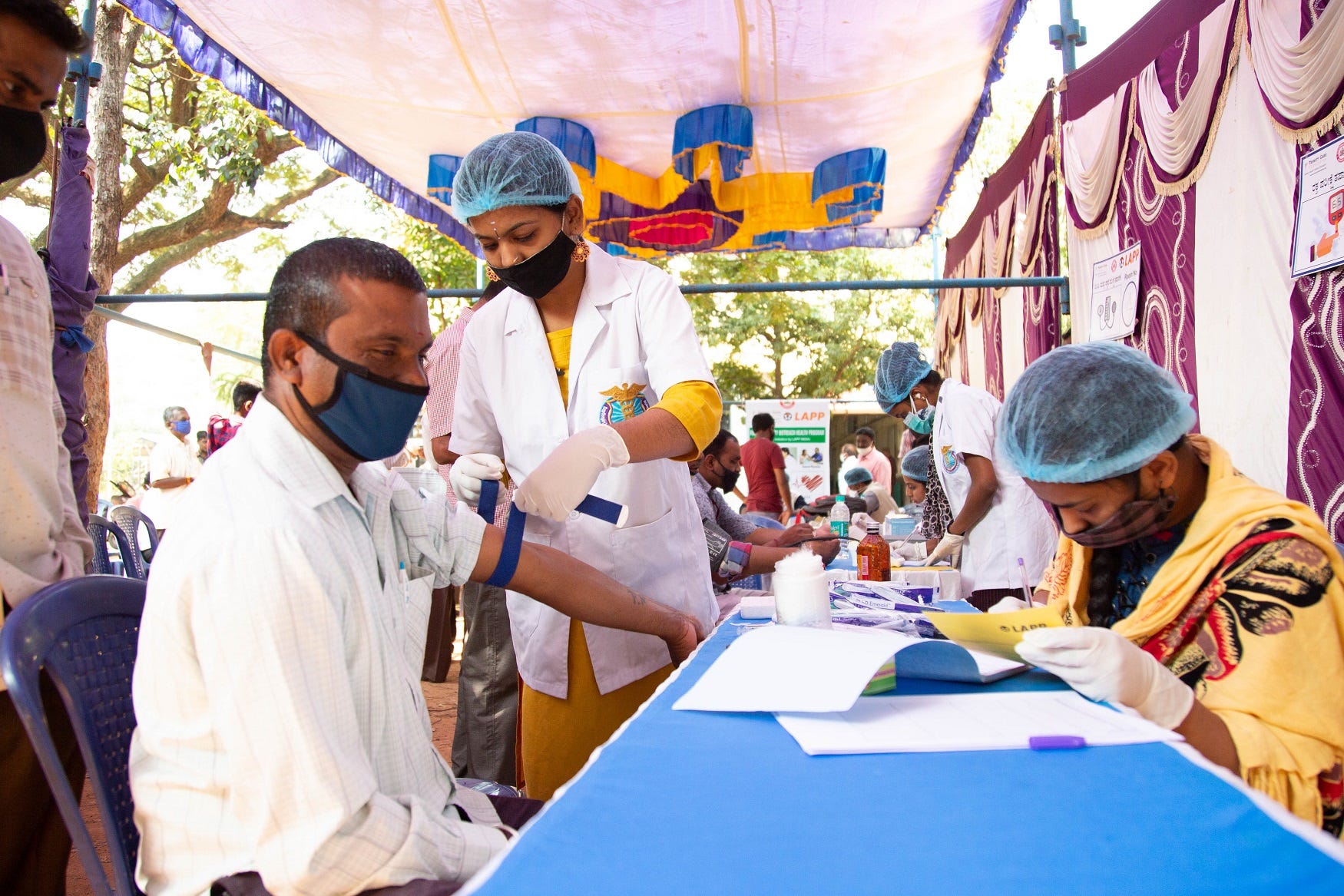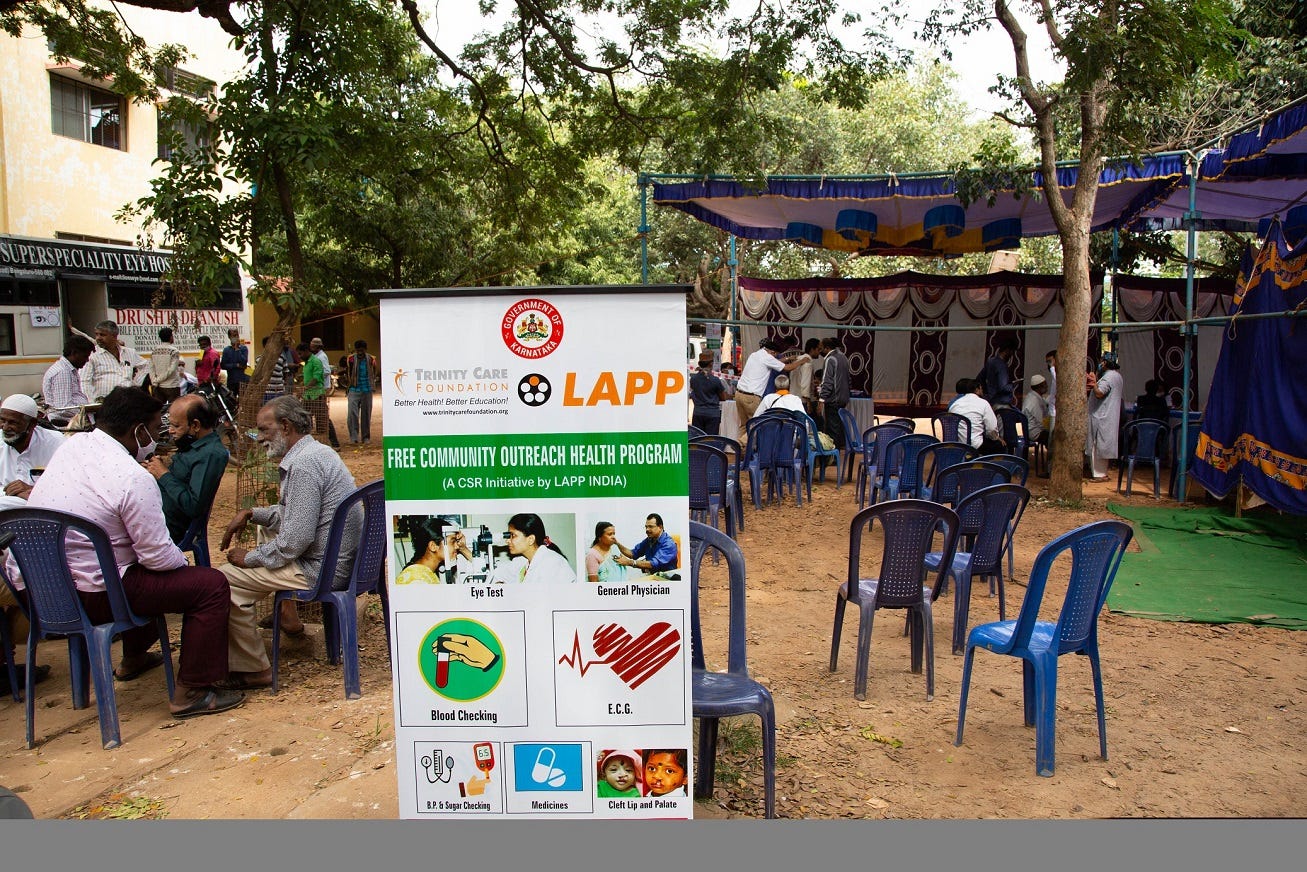 For us at LAPP, giving back to the society is our chosen responsibility. It's the people of the society who enable us to progress and evolve in our business and we believe we can only keep excelling if we keep doing our bit for the welfare of the society.
In the quest of strengthening Community Health initiatives, we organized Preventive Health Screening for the local community inhabiting the areas around our manufacturing facility at Bengaluru. Two such screening camps were held by LAPP, one at Government Cocoon Market Sidlaghatta, Chickkaballapura district and the other one at Palana Jogihalli Village, Doddaballapura Town, Bengaluru Rural district.
The aim behind conducting these screening camps was to be able to reach out to the socially and economically underprivileged communities of the society and evaluate their health. The screening included evaluation for heart diseases, respiratory diseases, skin diseases, eye screening, vision correction, providing spectacles, referral for cataracts, blood pressure and ECG monitoring. On the basis of each individual's reports, they were suggested treatments, dietary changes and were educated about government schemes and hospitals that will cater to their treatment without burdening them financially.
With three health camps per day at two sites, we screened more than 492 people and guided them towards necessary medical aid, thus preventing the possibility of fatal future health complications.
As a part of our livelihood enhancement program, we collaborated with Rang De, a charitable trust based in Bengaluru, dedicated to providing financial assistance and creating sustainable livelihoods for underprivileged sections of the society.
Under Range De Project, we at LAPP provided microcredit to low-income families and underprivileged communities of the society to enable them to bridge the gap between their requirements and financial capabilities. With the help of Rang De's team, we provided these families with financial aid to open the doors to better livelihood opportunities for them and to improve their standard of living.
We believe every individual in the society is capable of thriving and creating a valuable life for them if provided with right guidance and opportunity. Through our Rang De project we intended to benefit many such underprivileged families of our society and lead them towards a better lifestyle.
Promoting Primary Education
At LAPP, we understand the difference education brings in an individual's life. Unfortunately, not every child in our country gets the privilege to get educated and create a meaningful life for themselves opening the door to professional opportunities. A lot of children often get enrolled in school but are forced to discontinue due to financial constraints and limited opportunities available.
Staying true to our commitment of giving back to society, we took an initiative and supported educational expenses for economically backward children studying at Vivekananda Vidya Kendra Higher Primary School, KGF. We believe every single step that we take in the right direction will help these kids live the life they truly deserve and will help them grow on an individual level.