Our power and control cables fall under the ÖLFLEX® product brand and have always represented oil resistance and flexibility. Power cables provide the optimum power supply; while control cables, on the other hand, transmit signals to control devices and machines. In this product segment, LAPP offers you a variety of cables that can be used to cover all applications. Discover the range: from simple, universally usable single cores to multi-core cables for specific purposes such as robot or drag chain applications, or even solar and wind power.
What are power and control cables?
What is a power cable?
A power cable
- supplies devices, machines and plants with energy,
- serves to connect the power supply in buildings,
- distributes energy, e.g. in power stations and converter stations.
After all, without power, nothing works!
Power cables are also
known as energy cables
electricity cables
supply cables
or connecting cables.
A power cable has at least 1 core and a maximum of 5 cores. A variant with more than 2 cores usually consists of a neutral conductor, a protective conductor and one to three current-carrying outer conductors (phases, L1-L3), depending on the single-phase or three-phase alternating current.
The conductor cross-section is generally ≥ 0.5 mm², the individual cores are colour-coded according to VDE 0293-308/HD 308 (core identification code for colour-coded low-voltage cables and wires). LAPP offers power cables for the low-voltage range up to 1 kV and for the medium-voltage range up to 30 kV.
LAPP cable with the smallest
conductor cross-section:
28 AWG
ÖLFLEX® HEAT 260 SC
LAPP cable with the largest
conductor cross-section:
1,000 mm2
NA2XS(F)2Y
What is a control cable?
A control cable,
- transmits control signals within a control circuit and
- controls machine components with these control signals
Control cables are used to establish wiring within and across machines between electrical devices, machines, switchboards, sensors and actuators.
The control cables transmit simple signals used to control machines and their components. The signal receivers execute an action based on the control signals.
A control cable can contain 2 to typically 25 or, in rare cases, up to 100 numbered cores. The conductor cross-section is usually between 0.5 mm² and 2.5 mm², but can also be up to 35 mm² depending on the application. Control cables should be flexible and space-saving and have the smallest possible bending radii.
The highest number of cores in
a LAPP control cable is 100 cores
ÖLFLEX® CLASSIC 110
Standard-related information: Most of our control and power cables are subject to the Low Voltage Directive 2014/35/EU of the European Parliament and Council for electrical equipment with a nominal voltage between 50 and 1000 volts (AC voltage) and between 75 and 1500 volts (DC voltage).
Power and control cables are often used in the same applications, but have different functions. While in the figure below, the power cable provides the power supply to the machine control cabinet, the control cables pass on commands to the machine.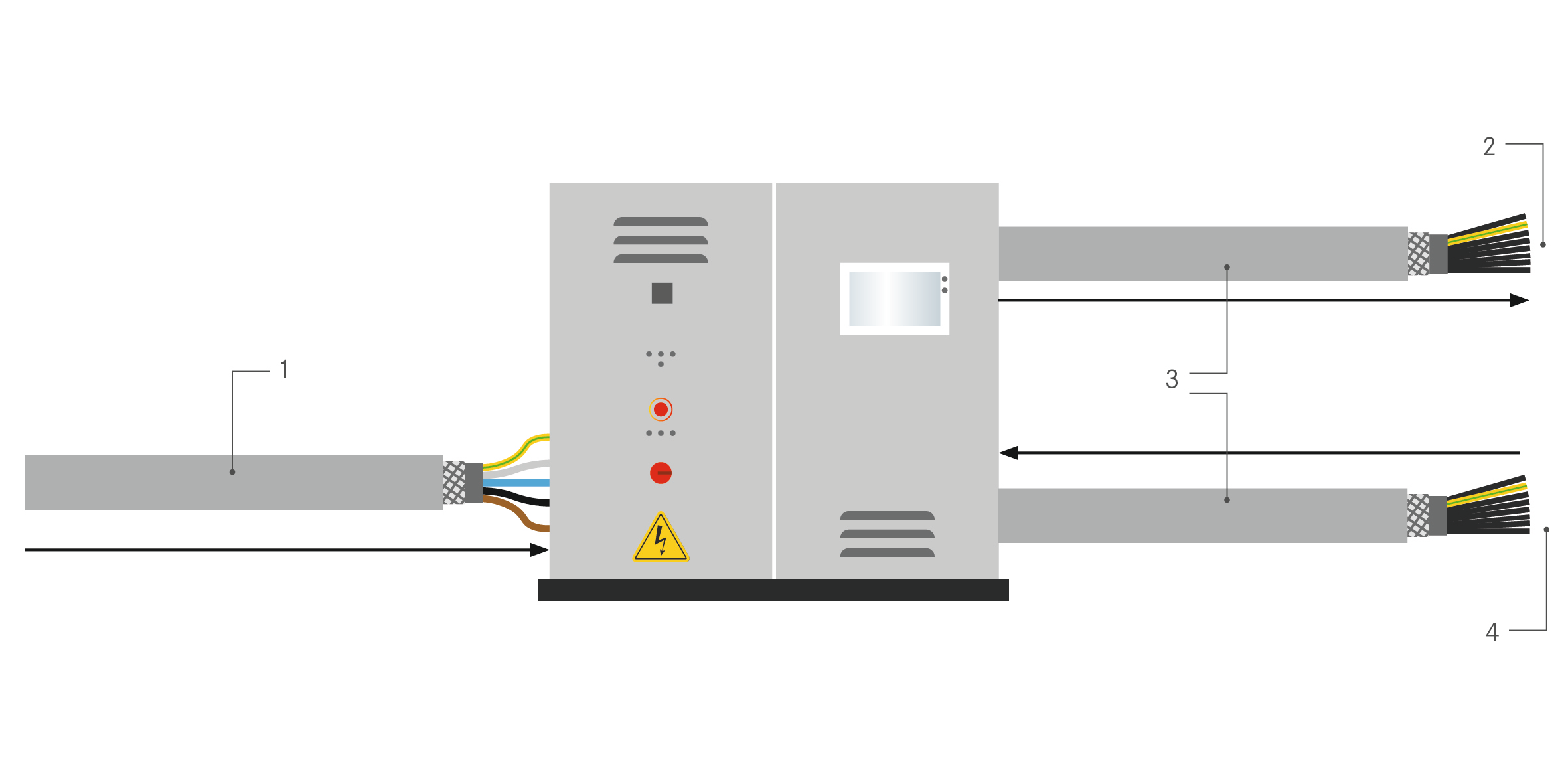 1. Power cable
2. Actors
3. Control cable
4. Switches, sensors
| | |
| --- | --- |
| ÖLFLEX® Control cable | ÖLFLEX® Power cable |
| | |
What does our ÖLFLEX product brand stand for?
The history of LAPP begins with an ÖLFLEX® cable. In 1957, Oskar LAPP invented the first industrially produced cable – a flexible control cable with colour-coded cores.
Up to this point in time, there were no cables that could also be described as a sheathed bundling of several insulated conductors. Cores were previously pulled individually into protective conduits with a great deal of effort.
A major industrial change took place with the oil-resistant and flexible ÖLFLEX® cables from LAPP.
Since then, the ÖLFLEX® brand has been synonymous with power and control cables.
Today, the ÖLFLEX® cables still satisfy the highest demands and can withstand even the very toughest conditions. ÖLFLEX® has brought together various product families in the meantime: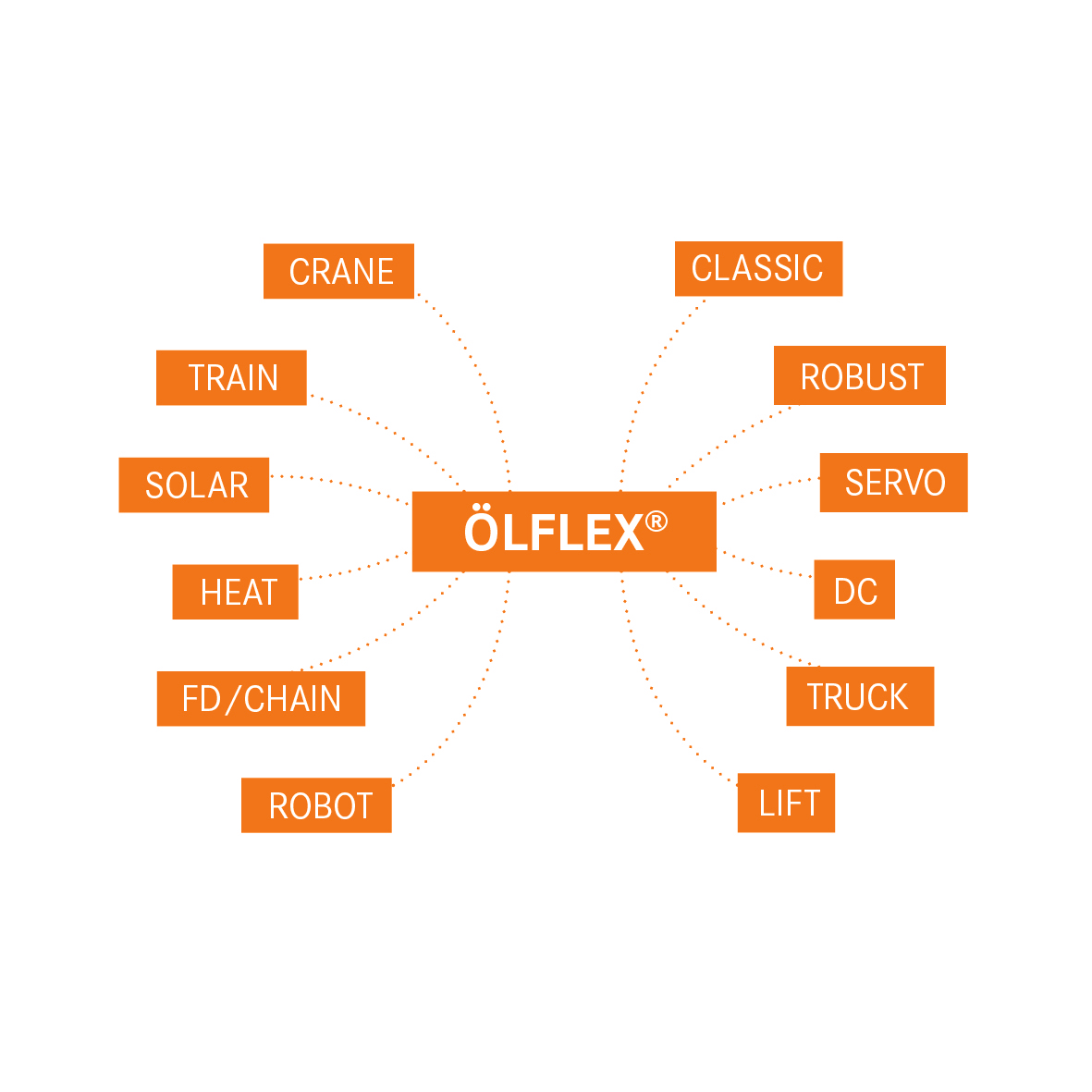 ---
What role does electromagnetic compatibility play in power and control cables?
Electric motors, control cabinets and power cables can have a
disruptive effect on control cables and data cables due to the generated electromagnetic fields.
The electromagnetic radiation from power cables interferes with surrounding devices and machines:
2. The electromagnetic radiation of devices and machines in turn interferes with the power supply or signal transmission:
Copper stranded shielding under the outer sheath of power, control and data cables serves as an effective countermeasure. This shields the interference fields in
both directions - provided that the electromagnetic interference can be discharged into the ground using a suitable earthing concept.
Depending on your application, you can decide whether your power and control cables should be shielded and therefore become electromagnetically compatible.
Read more in-depth information on electromagnetic compatibility (EMC) here.
Which power and control cables does LAPP offer?
Power and control cables must withstand a wide range of mechanical influences such as pulling, bending, abrasion, cutting, torsion and pressure. They often also have a special chemical resistance, enhanced temperature resistance and, of course, UV and weather resistance are expected if used outdoors.
They can be used almost everywhere: in mechanical and plant engineering, in measurement, control and heating engineering, in wind turbines and photovoltaic systems, in public buildings, airports, railway stations, as well as in medical engineering, the chemical industry, the food industry, construction engineering, stage technology, mobile electrical appliances and many more applications.
The number of cores, the conductor cross-section, the basic material of the core insulation and outer sheath, as well as the cable structure (layers, shielding and stranding) and the certifications obtained ultimately provide the determination
the final properties,

the designed nominal voltage and thus

application area and installation type
of a cable.
The nominal voltage is the reference voltage for which cables and wires are constructed and tested. It is expressed by the ratio U0/U in volts, whereby:
- U0 is the effective voltage between a phase conductor and earth,
- U is the effective voltage between two phase conductors of a multi-core cable or a system of single core cables.
Standard-related information: Please note when selecting cables and wires that these must always comply with the applicable standards and guidelines. Follow the instructions of the international standard DIN EN 60204-1:2019-06. It regulates the safety and electrical equipment of machinery and, in Part 1, defines the requirements for cables and wires as well as their usage conditions. Also check whether there is a specific product standard with other/extended requirements that take precedence. These could be, for example, the application instructions of the IEC publication 62440:2008 for electrical cables with nominal voltages up to 450/750 V.
Which product groups have we defined for our power and control cables?
Tools and accessories you might need
Browse through our portfolio,
use our smart filters and
find your top product.